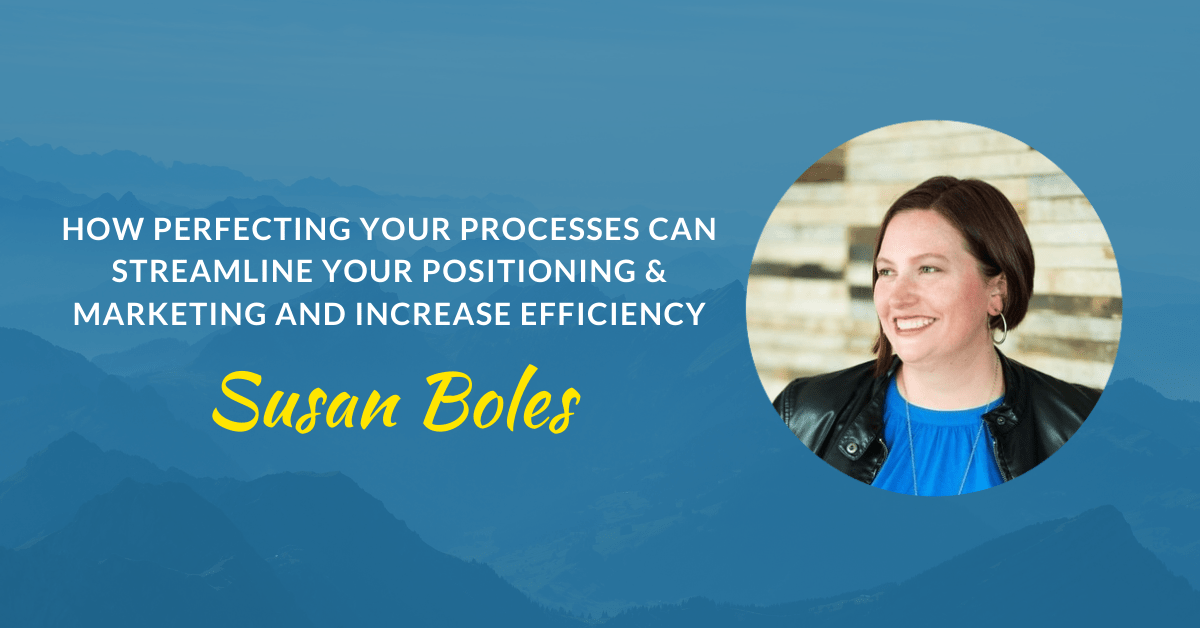 How perfecting your processes can streamline your positioning & marketing and increase efficiency with Susan Boles
I think my favorite podcast episodes are the ones where I get to chat with someone who's at a similar level about the real nitty-gritty aspects of business. This episode is exactly that as my guest and I get into all sorts of great stuff about having a broad skillset, positioning yourself well and how to tell if your marketing investments are good ones. 
Susan Boles is a Virtual CFO and Operations Advisor for coaches, consultants and agencies. Through her business Scale Spark, she helps businesses run more efficiently and understand the financial health of their business.
Susan starts by telling us about her background in data and finance and how these inform her holistic work as a virtual CFO today. She also shares why she loves working with service businesses in particular and how she helps them streamline their workflows so they deliver standout results with less time and hustle.
We then dig into how Susan positions herself despite having a super unique job title and why her clients appreciate her broad and deep perspective. We also talk about what she suggests when it comes to marketing and how she evaluates whether her business investments have paid off or not. 
There is so much great stuff packed into this conversation, I can't wait for you to hear it. 
What You'll Learn from this Episode:
How Susan brings together three unique skillsets to benefit her clients with a more holistic business and finance perspective.

Why she believes that the processes, financials, and project management of a business are intricately tied together.

How Susan helps service business owners who have hit a growth ceiling because they've tapped out their operational capacity.

Why streamlining your delivery process is one of the most powerful things you can do for your clients

and

your bottom line.

How Susan has positioned herself when she has such a broad set of skills & perspective on her clients' businesses. 

How she knows whether an investment for her business is a good one.
Links mentioned in this show
Subscribe & Review on Apple Podcast
Are you subscribed to my podcast? If not, I'd like to encourage you to do that right now. I don't want you to miss an episode. I'm adding an in-depth interview with personable business owners who are still in the trenches so the learning is current.
Now if you're feeling extra connected to what we've shared, I would LOVE it if you left me a review over on iTunes, too. Those reviews help other people find my podcast and they're also giving me great feedback on how I'm doing. Just click here to review, select "Ratings and Reviews" and "Write a Review" and let me know what part of the podcast moved you. Thanks so much!