Wondering why new members aren't pouring in?
Is your membership stuck at a certain place?
You thought you'd see consistent growth every single month but are now sitting on a very flat plateau and it's painful when a long-term member drops off.
Or perhaps planned it perfectly, set it up beautifully with every detail and can't figure out why people aren't rushing in?
It's not due to a lack of value. You're sitting on a goldmine. The gold is your wisdom, skills, proven track record and heart. You know how to deliver and you have a lot to give!
It's time to start receiving more recurring and sustainable revenue for the impact you're  making. Transformation is your middle name. You know in your heart ... it's your turn. 
Instead, you're grappling with questions like ...
How to turn everything you know into sustainable, usable content without burning out?
What do my people want to learn, and what will they pay for?
Why are so many people on my list not not signing up?
How do I keep long-term members happy and spreading the word about how much better their lives are since joining?
If you've made it to this point, you've been doing something right. You've probably had success with one-on-one or small group programs, have more than a few raving fans and aren't new to marketing. 
But something is missing. To hit the next level, you know you can't figure it out on your own. 
Three reasons why your membership site isn't taking off
Current positioning isn't telling the true story of your value
Most people who start membership programs wing it. They throw up a site, plan a few months of content and invite everyone they know. Months and even years later, the brand and offer are still unclear, making it hard to bring in new members. Expert positioning is critical to attracting ideal members and high conversion rates.
Grappling with delivering the content that retains members
Retention is the golden ticket of memberships. It turns them into recurring revenue machines and allows you to deliver your best in one place. In order to get there your members need to be engaged, which means showing up and getting results. You don't need to deliver more content, just the right amount that gets them closer to their goals.
You haven't mastered your sales & marketing system
You've got your founding members and enrolled a number of others. Maybe you've had some success with live launches but you're finding yourself stuck at a certain level. It's time to figure out what type of funnel and content will attract people and nurture them to become happy long-term brand ambassadors.
Lisa has helped me focus my membership, develop a launch strategy and take action to grow it.
Her feedback on my messaging and value prop have been invaluable - getting that clarity has 'allowed' me to live launch confidently and enroll new members.
Before working with her, I could never envision what a live launch would be because I was trying to attract too many different types of members.
Angie Trueblood, The Podwize Co-op
Before my strategy session with Lisa my head was swirling around with lots of ideas and uncertainty about which direction to take my business in.
Lisa's depth of knowledge about business models, marketing, and messaging was critical to helping me formulate a new program that will help my clients  take their speaking to the next level, while levelling up my own leadership as well.
I came away from our sessions with a clear plan, the next steps I needed to take, and confidence that this is the right path for me.
The best part was the a-ha's I had as we were talking, the realizations of what I wanted my business model to be and how I needed to show up.
It was well worth the investment, as I know it will pay off many times over!
Carol Cox, Speaking Your Brand
Three components of highly successful memberships
You've looked around. There are so many successful entrepreneurs with similar businesses to your own. They appear to be killing it. But how did they get so much traction?
Their materials & trainings are not better than yours.
How did they get from floundering to flourishing?
Here's what's stopping you from a membership of 100, 250, 1000 and beyond:
★  Foundation 1:  Irresistible positioning so the ideal member knows it's for them.
★  Foundation 2:  A sales strategy that nurtures prospects & turns them into members.
★  Foundation 3:  Members who show up and get results.
It's not a magic formula. All you need is to uncover the true value of your program and know how to communicate it. We can do that together!
Lisa's superpower is to help businesses distill their value.
Before working with her, I didn't how to articulate the unique message of my business and make it work. Lisa helped me make sense of the ideas in my head and make them understandable for the clients I'm trying to attract.
As a result, I was able to distinguish my ideal client from others and put messaging on my website that resonates with them, and means a lot to me.
Tammy Martin, Martin Marketing
Lisa opened up a whole new world for me, allowing me to look at my business strategy as profitable and sustainable for years to come. With her honesty, fearlessness, encouragement and guidance, she helped me change the way the studio runs from all angles.
She showed me how my business could continue to grow rapidly at a successful and manageable rate. Working with Lisa, is by far one of the best choices I've made for my business and my personal well being.
Sara Constantin, Squamish Dance Centre
A proven system for building an irresistible membership program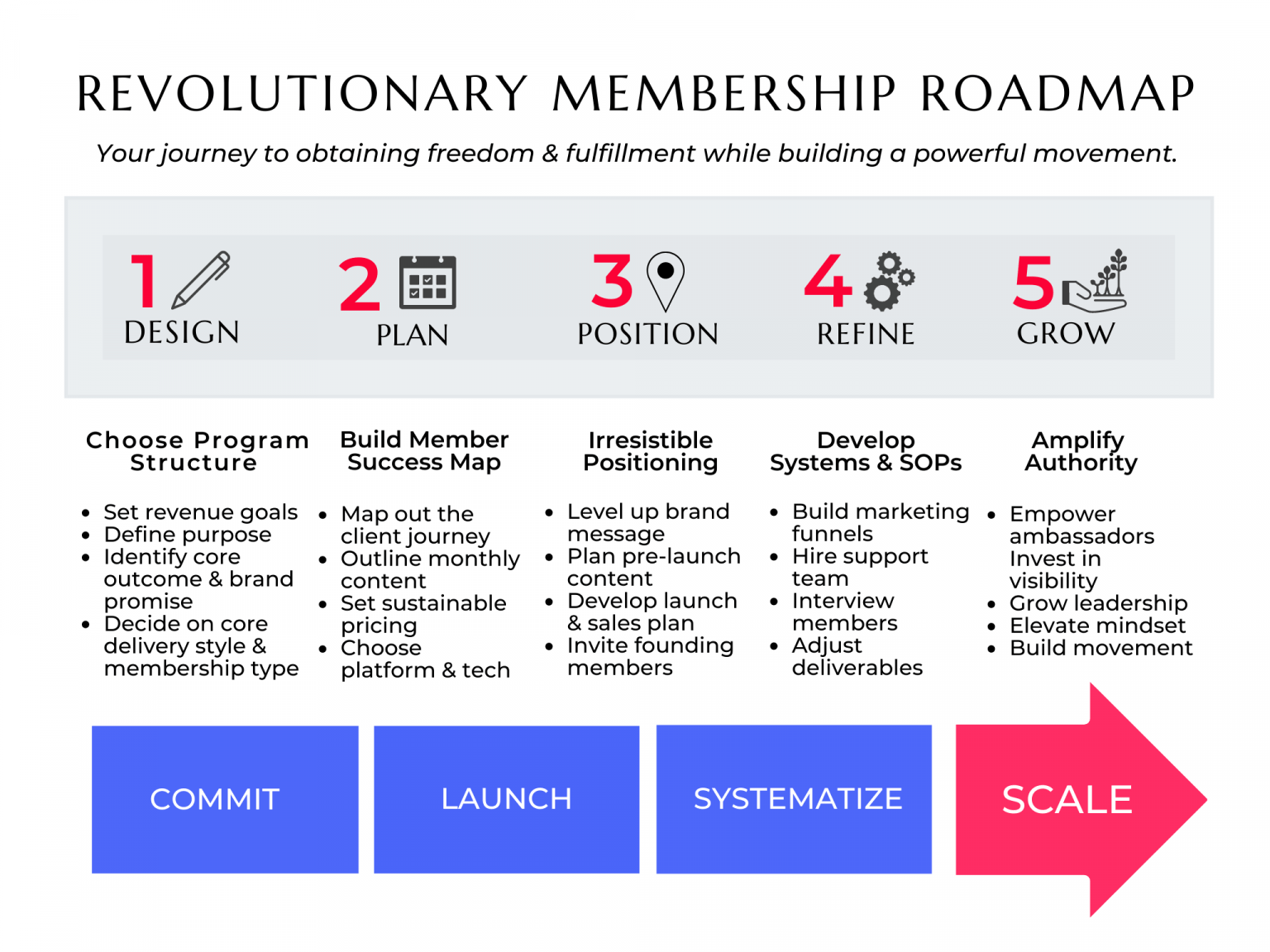 I worked with Lisa to revamp my brand messaging and she gave me tons of insight that led to an important shift in my business.
Within 6 months after working together, I was able to double the members in my program and increase my member retention.
Andrea Jones, Savvy Social School
After hiring Lisa for a one-day intensive coaching session regarding my marketing and messaging, I walked away not only with a lot more clarity than I walked in with, but also a roadmap on how to put everything we talked about into action. Beyond that, I left so excited and energized about the direction of my business, and motivated to get to work. I really can't recommend Lisa highly enough!
Jeremy Enns, Counterweight Creative
Lisa helped me see that the bottleneck existed in my sales sequence. Just days after I tightened up the language, I bumped up the price 15% and started selling 1 course every day! She helped me see that I was giving too much away and didn't need more leads, just a higher conversion rate.
Lisa's process got me immediate results. I've now had 3 record breaking months in a row ... and it's my slow season!
Mark Groleau, Unboring Wedding
Personalized guidance to develop your unique membership growth plan
Are you a growth oriented niche expert who wants your membership program planned out right, or already has one that's not realizing anywhere near its potential?
Choose one of my private coaching programs to work on any or all of these:
The right membership model for your business goals and zone of genius.
Knowing your ideal client so well that your conversion rate dramatically increases ... and your retention remains at an all time high.
Clear positioning - your brand promise, core messaging & pricing all line up to create an irresistible offer.
Refined messaging & branding so you can create sales pages that wows the most discerning buyer.
A minimalist marketing system to consistently draw in prospects and warm them up.
A launch and sales strategy you can count on.
Structure for your content that's sustainable and gets your members result.
Ready for your next 100 members?
Here's How We Can Work Together
This package is for experienced business owners, ready to create consistent revenue and scale their program. We'll level-up your vision, refine your positioning & map out the marketing plan to increase your visibility, while ensuring you can shift from doing all the hands-on delivery.
You get:
---
Private 3 hour Business Design session to go over all the core components of mapping out your membership design & growth plan. (Value $1,650)
---
A personal review of your sales assets & marketing funnel, with suggestions on how to improve conversions & flow. (Value $500)
---
Leadership support to help you level up your mindset and prepare for bigger impact. (Value unlimited!)
---
One 60 minute follow-up strategy session to map out next steps. (Value $550)
---
Unlimited email or Voxer support for 30 days. (Value $997)
---
3 months access to the Profitable Membership Club. (Value $500)
The strategy session is perfect for business owners who already have a membership and need to troubleshoot one specific issue.
This could include (but is by no means limited to) your positioning, sales funnel, launch plan, member retention, content & deliverables or growth goals.
It includes:
---
Private 60 minute hour session to help you get over and challenge or develop a plan to reach a new goal.
---
Both audio and video recordings to review the strategy as many times as you like.
---
Access to a document with session notes.
---
Prep form to fill out before we meet so we get to work on what's important immediately.
---
Feeling urgent? Don't worry! There will be availability within 7 days of your purchase.
*Once payment is confirmed, you'll be sent a confirmation with details on how to book and prepare for our strategy session.
Profitable Membership Club
The "Club" is here to serve your membership business owner dreams. It's designed to help you create more than just valuable recurring revenue for your business, but to help you build a powerful movement.
This a monthly group program that help female leaders scale their businesses with membership programs.
It includes:
---
The Membership Revolution Course - 9 modules of training to help you design, launch and sell your program
---
LIVE Q&A's designed to get your questions answered
---
A community of go-getters who show up to do the work and care
---
Monthly trainings and themes to help you strengthen your existing membership value
---
Mentorship by me and other business experts so you can build a sustainable business model
---
Branding, marketing and sales support
I booked a Business Design session with Lisa because I was feeling like my business was flatlining. I wanted to re-evaluate my goals, business model, and jump-start a new year.
My session was EXACTLY what I needed. I saw a jump in sales, an expansion of my services, and new energy in my business almost immediately. She gave me some great ideas, connections, and most importantly, accountability. I know I'll refer back to our notes consistently as my business continues to grow.
Lindsay O'Donnell, Piquant Marketing
As a licensed Quiet Power Strategy™ business strategist, I've completed an intensive apprenticeship under business strategist and thought leader Tara McMullin. I use Quiet Power Strategy™ coaching tools that have been used with thousands of entrepreneurs running businesses of every single type. I combine my knowledge of Lean Startup principles and effective business model development to design businesses for success.
If you are ready to cut through the fog and get a clear, effective strategy with experienced support you will love your personalized Quiet Power Strategy™.